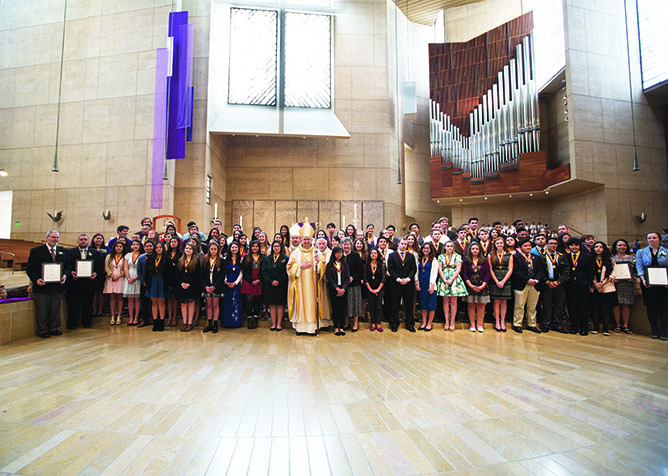 2015 Christian Service Award Recipients –Image: Tidings
(Tidings Online)  Peter Masado a Senior at St. Genevieve High School in Panorama City, enjoys devoting both time and energy to serving his fellow students and parish community as campus ministry president.
In that role Masado, has engaged with friends, learned new skills and developed leadership abilities but the Summer, Masado spent volunteering outside of his immediate communities is an experience that will stay with him for a lifetime.
As an Emergency Room volunteer at 'Valley Presbyterian Hospital' in Van Nuys, Masado helped deliver lab samples, ensured the availability of clean bed linens in all rooms and provided snacks, water and blankets to weary, waiting patients.
Masado recalled, 'the most miraculous thing I've seen is a baby being born right outside the hospital, an emergency delivery took place in the parking lot. That happened on the first day of my volunteer experience and that just really opened my eyes to the miracle of life. It was amazing.'
Masado was among 78 Seniors from 51 Catholic High Schools throughout the Archdiocese of Los Angeles that were honored on the 18 March for their exemplary community service during the annual Christian Service Awards Mass held at the Cathedral of Our Lady of Angels–the event also honored seven exceptional Catholic High School teachers.
Rest here from The Tidings Online