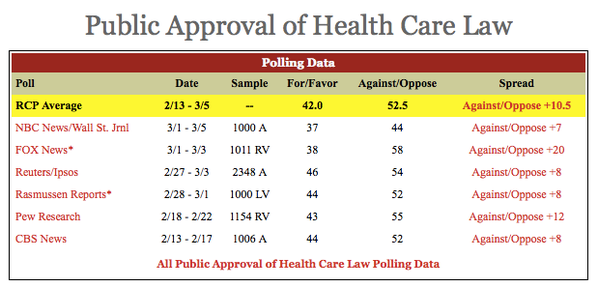 According to the Latest Real Clear Politics Average of Obama's Signature Legislative Achievement 52.5% Americans Oppose ObamaCare
(The Daily Signal) Unfortunately for IHOP Franchiser Scott Womack who owned 12 restaurants in Ohio and Indiana with plans to expand his franchise to add 14 new locations in Ohio before ObamaCare was signed into law. Womack estimated that the Affordable Unaffordable Care Act would cost him $7,000 per full-time employee to provide health care coverage leaving him with few options:

Cut costs, eliminate staff, reduce hours or convert workers to part-time status.

Facing the prospect of ObamaCare's  employer mandate taking effect on 01 January, 2015 Womack was forced to sell his IHOP franchise.
What are other Americans saying about ObamaCare:
Kristina Ribali@Twitter: "5 years after ObamaCare and my deductible went from $1,200 a year to $6,000 a year per person. Family from $6,000 to $12,000″
Gavin Preston, MD @Twitter: "All of my Doctor friends, except for one, have told me if they had to accept 'Covered California' (The ACA exchange) payments, out of business."
Covered California@Facebook:  Elena Furlan Ross writes: "Covered California is a SCAM!! I paid $416 monthly premium, I went to the doctor, paid my copay and the doctor sent me a bill for $1225 because COVERED CALIFORNIA denied the claim! Do not buy Covered California, Do not waste your money, you will receive no health coverage."
Nabeel Amin@Twitter: "Left with no coverage in an urgent situation courtesy @CoveredCA and @BlueShieldCA with no recourse or responsibility."
Nabeel Amin@Twitter: "…@CoveredCA 5 hours of non-stop calls and all they can say is we don't know why your account was terminated."

Related: Ask Emily: ObamaCare Adds More Pain to Taxes –OC Register

Covered California Sends 120K Corrected Tax Forms Thousands Still Wait
Insurance Choices Dwindle in Rural California as Blue Shield Pulls Back