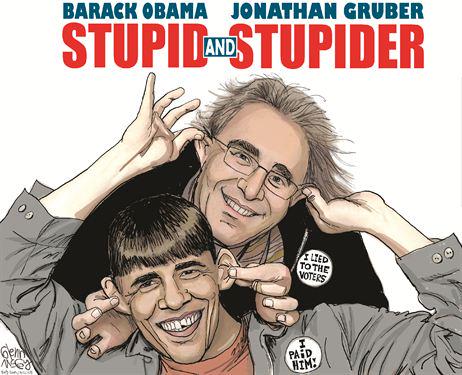 Birds of a Feather: Obama: I have stolen ideas from…Jonathan Gruber; ObamaCare Architect 'Stupid Americans' Jonathan Gruber
(NRO/Mona Charen) Jonathan Gruber, sage of MIT and proud champion of ObamaCare, may well have had the worst year in public life, he repeated demonstrations of arrogance, contempt for the American people and smug self-satisfaction brought mortification to Democrats–his glib references to redistributionist aspects of the ACA gave the lie to to Democratic Party's dubious claim that the mandate was not a tax, along with the excruciating (to Democrats) acknowledgement, that presidential oaths to the contrary, notwithstanding, Democrats regard 'nontransparency' as their friend.
So hail the verbal incontinent Mr. Gruber for revealing the truth underlying ObamaCare:  It wouldn't have passed if presented honestly. Gruber, Obama, Pelosi, Reid and Co. didn't ever succeed in hoodwinking the majority of Americans–ObamaCare was unpopular when proposed, despised when passed and remains disliked to this day. Gruber's contribution was to put a frame around its essential deception.
In case we needed another reason to be frustrated with Jonathan Gruber, writes Cortney O'Brien in LifeNews.com America's most infamous ObamaCare architect who insulted our intelligence also once argued that abortion has helped improve our nation's economy and social environment.
In a paper entitled, Abortion Legalization and Child Living Circumstances: Who is the "Marginal Child?" Gruber co-authored in May, 1997 for the Natl Bureau of Economic Research, Gruber and his two colleagues suggested that abortion has helped save the nation money and social woes together arguing:
We find evidence of possible sizable positive selection: the average living circumstances of cohorts of children born immediately after abortion became legalized, improved substantially relative to preceding cohorts and relative to places where the legal status of abortion was not changing.

Our results suggest that marginal children who were not born as a result of abortion legalization would have been systematically been born into worse circumstances had the pregnancies not been terminated. They would have been 70% more likely to live in a single parent household, 40% more likely to live in poverty, 35% more likely to die during the first year of life and 50% more likely to be in a household collecting welfare.

The last of these findings implies that the selection effects operating through the legalization of abortion saved the government over $14 Billion in welfare payments through the year 1994
"Considering that 30% of Abortions are obtained by African-American Women–though they comprise just 13% of the population," writes Mona Charen in National Review Online "Gruber was in effect arguing that reducing the number of poor black children was, not to put to fine a point on it, a 'positive good.' One cannot begin to imagine the outcry if a Conservative  academic had published similar conclusions."
"Leaving aside the moral obtuseness of arguing that abortion is justified because it reduces crime or welfare expenditures (which party is supposed to be sting with welfare, again?) and consider the many, many possible explanations for the drop in crime that began in the 1990s (such as an aging population–I digress) but lets imagine Gruber was right–that legalizing abortion eliminated a big cohort of the criminal element and led to a drop in crime. Did everyone of those aborted criminals merit the death penalty? The car thieves? The embezzlers? Did each one deserve a preemptive death penalty?"
"It is upsetting to say the least writes Cortney O'Brien, that someone who thought so highly of Roe -v- Wade was helping to craft our national health care law. Perhaps it explains who ObamaCare is filled with abortion subsidies–plans that indirectly fund the procedure," and government lawyers going into federal courts to force Christian benevolent organizations such as the 'Little Sisters of the Poor' to comply with the ObamaCare mandate.