Senator John Walsh (D-MT) Blames PTSD for Plagiarism
Image: District of Calamity@Twitter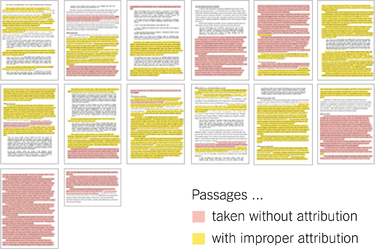 How U.S. Senator John Walsh (D-MT) Plagiarized his "War College" Masters Thesis –Image: NY Times
(NY Times) Democrats were thrilled when John Walsh of Montana was appointed to fill the open Senate seat left vacant by Sen Max Bacus now U.S. Ambassador to China.
Walsh a decorated Iraqi war veteran and former Adjutant General of the Montana Natl Guard, Walsh offered Democrats something it often lacks, a seasoned military officer.
On the campaign trail this year, Sen Walsh made his so called distinguished military career a selling point but now, one of the highest credentials of Sen Walsh's military career appears to have been fraudulently attained.
An examination of his final Masters thesis from the U.S. Army War College, indicates Sen Walsh appropriated at least a quarter of his paper on American/Middle East Policy from other authors works without attribution.
Sen Walsh, completed his paper what the "War College" calls a 'strategy research project' to earn his 2007 degree–the sources of the material he presents as his own include academic papers, policy journal essays and books that are almost all available online.
The first page of Walsh's paper, borrows heavily from a 2003 Foreign Affairs piece written by Thomas Carothers, V.P. for Studies at the Carnegie Endowment for Intl Peace together with a 2009 book by Natan Sharansky with Ron Dermer entitled: "The Case for Democracy–The Power of Freedom to Overcome Tyranny  and Terror"
Sharansky is a former Soviet dissident and Chair of the Jewish Agency for Israel, Dermer is the Israel Ambassador to the United States–All of the 6 recommendations that Sen Walsh lists at the end of his Masters thesis were taken nearly word-for-word without attribution from a Carnegie paper written by Carothers and three other scholars at the institute.
Walsh claims when he wrote the paper, that he was seeing two doctors and taking meds to deal with nightmares, anxiety and sleeplessness, Sen Walsh says that he's now worked through those issues with his family and doctors though he still takes antidepressants.
On Wednesday, a Sen Walsh campaign aide didn't challenge the plagiarism allegations though suggested that one should view it in the context of Sen Walsh's 'distinguished' a long career, she said that Walsh had been going through a 'difficult period' bu6t that Walsh "dealt with the experience of post-deployment" claiming that he had not sought treatment.
Later Sen Walsh in an interview with the Associated Press contradicted the aide saying that he received treatment for PTSD when he plagiarized the paper and would now consider apologizing to the scholars–since he's been caught.
More here from FOX News