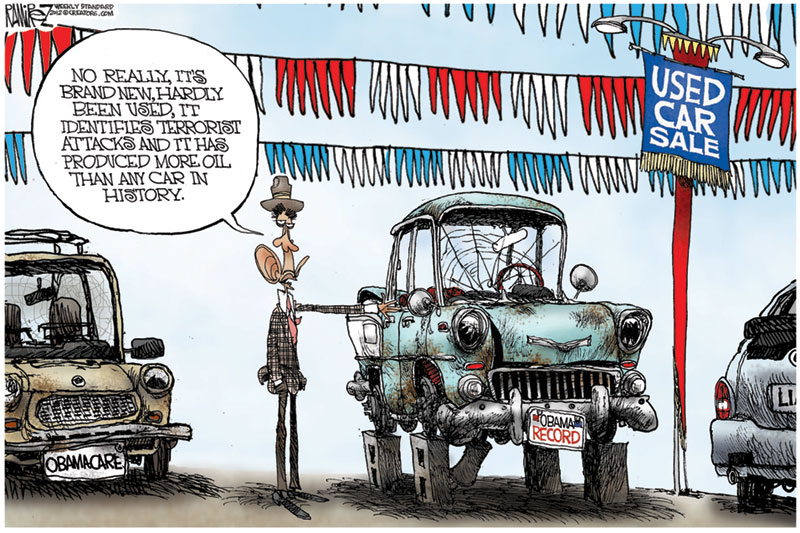 (Dgroatauthor) I got a letter from my automobile manufacturer saying that due to the 'Affordable Car Act' (ACA) my current vehicle had been canceled and should be mailed back to the factory, postage paid.
After a 79 hour wait to get on the ACA website, I found that having chosen and paid for my car and liked it for several years, the government decided either it was not good enough or too good for me. When I checked into it further, I discovered that the new law, affectionately called "ObamaCar" required me to drive something with child car seats installed in the rear (even though I have no children) an automatic pine-scent air distribution system (even though I hate that smell) an adjustable brake pedal that would accommodate drivers as short as Jockey's and as tall as NBA players (even though I'm six feet) passenger room for seven (even though I never drive anyone to the polls) plastic seat covers with little nubs on them (even though I hate a cold butt in the Winter) and a built in air conditioned GPS-WiFi Bluetooth device built by the NSA and connected to their master computer that will give me driving directions to all Democratic Party office sites (even though I am a registered member of the Birthday Party whose slogan is: Let Them Eat Cake Once a Year. A state-of-the-art (the ACA website words not mine) satellite stereo that plays any kind of Polka music I want (even though I prefer Classic Rock) and an articulating high speed water jet spray arm that automatically washes the car every Tuesday at 9:00 AM (even though its still in the garage. The necessity for the device is attributed to an EPA ruling that says dirt is hazardous to the environment because it leads to 'Global Worming' extensive scientific testing funded by numerous government grants has finally confirmed that worms do live in dirt.)
After I put in all my personal information and promise to send as much money as possible along with two pints of blood every month to Washington, I was presented with my choices for my "Car Replacement Affordable Plan" (known by the government acronym 'CRAP' and privately called 'Big Stuff' BS by Joe Biden) Making my decision was not difficult (even though the website promised a vast array of plans) since I was presented with only four variations of the 'Tato Nano' (made in India) identical in every respect except color. I had to pick from "Blame the Republicans" Red, "There's No Blue in Blue" Blue, "A New Progressive Sunrise" Yellow and the "Color of Our National Debt" Green. I would have preferred green but I discovered that the choice would not allow me to pay cash and required me to borrow the purchase price at 60% interest amortized for the length of my life (said length to be determined by the government at a later date with no requirement for advance notice) So I chose, "There's No Blue in Blue" Blue (actually the picture was White) now I'm really confused.
My biggest disappointment with CRAP was learning it was going to cost me $65,000 and I wouldn't be able to keep my current driver. I would be forced to choose a new driver from a list approved by the government and when I put in my zip code, I was told my driver would be Herman and he would only be available on Tuesday afternoons since he refused to drive a dirty car. I try to make solace from the knowledge that soon no one in the country will be without a car and we will have succeeded in spreading CRAP throughout the land.
God Bless America.
Oh I'm sorry. That was part of the CRAP small print. I'm not allowed to say that anymore. The government promised to email me an acceptable phrase to use in its place in the next six to ten years or if I needed it sooner, I could apply for one on the newly established website WTF.gov (watch the Frase) the spelling was approved by the newly appointed Lexicography Czar, who released a statement saying, that using the letters 'ph' when the letter "f" would work is now banned since it was fairer to the citizenry to require everyone to write fonetikally.