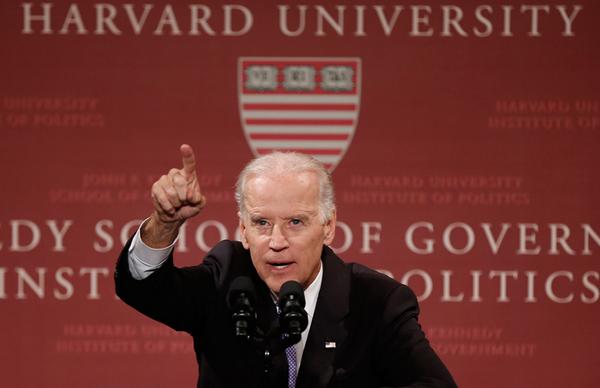 Bozo Joe at Harvard University Kennedy School of Govt –Image: WGBH
(Want China Times) VP Joe Biden mistakenly described China as part of North America last week at Harvard University.
After stating that North America is "literally–not figuratively  the epicenter of energy in the world today," Biden went on to explain that "North America will account–meaning Mexico, China and Canada, for two-thirds of the growth of global energy supply over the next 20 years."
Likewise while at Harvard University Biden claimed that Americans 'face no existential threat' from terrorism, to our way of life and national security.
I'm thinking that the family of 26 yr old Indiana Aid Worker Peter Kassig who ISIS Jihadist have threatened to behead next, likely do not agree with 'Bozo Joe's' threat assessment.
Related: U.S. Hostage Kassig Letter: "I Am Scared to Die" –BBC