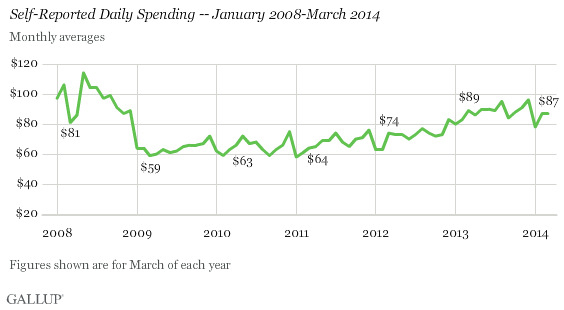 (Gallup) The amount Americans reported spending each day in March averaged $87 for the month, identical to February.
Although government figures show that total retail sales, excluding motor vehicles rebounded in February after January's anemic sales, year-over-year sales were up only 1.6% in January and 1.3% in February, the weakest retail growth figures since November, 2009
On the 04 April, I wrote here that the number of Women unemployed climbed 180,000 in March, which evidences a weakening economy, even though the Obama Administration claims according to Bloomberg Businessweek that the economy is 'on track to strengthen' and add more jobs in the next two years.
In February, Zero Hedge reported that the U.S. Labor participation rate fell to a 35 year low. So much for the Obama Administration's forecast this year and next of a robust, job producing economy.