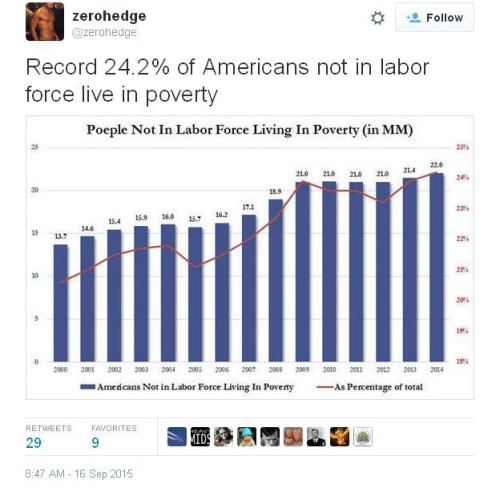 (ZeroHedge) According to the just released Census Bureau annual report on Income and Poverty in 2014 the official poverty rate was 14.8% as a result of a record 46.7 million Americans living in poverty. This is the 5th consecutive year since the end of the recession that the number of impoverished Americans has barely not budged. What recovery?
Worse, there was no material change for the percentage of Americans in poverty, there was a statistical increase of the number of people in poverty who had at least a bachelor's degree (rising from 3 million to 3.4 million in one year) and married-couple families because through higher education and debt, to poverty.
The people living in extreme poverty (below 50% of the poverty minimum) also rose to an all time high of 20.8 million people.
Of the 91 Million Americans who were out of the labor force in 2014 and otherwise did not work, a record 24.2% or 22 million lived in poverty.
The most damning fact about the total failure of Obamanomics, is that median household income after posting a modest increase in 2013 to $54,462 dropped once again, sliding 1.5% in 2014 to $53,657 and down from a high of $57,843 record in 1999 — that was nearly the same as the $53,306 median house hold income recorded…in 1989