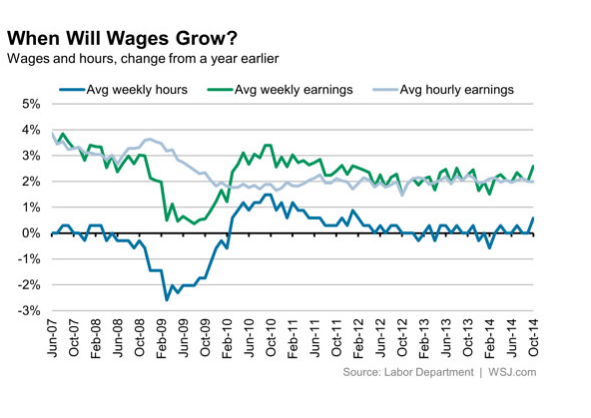 Wages & Payroll Hours at Anemic Pace
(WSJ) Americans are waiting for a raise, wages have been stagnant since the recession, squeezed family budgets and contributed to the dissatisfaction with the economy–average hourly earnings in the private sector have risen just 2% in October from a year ago, in line with the sluggish trend of the past 5 years and barely exceeding the inflation rate–cost of living.
On the 07 November, I wrote here the U.S. Labor Participation Rate held steady at an historic 36 year low of 62.8% according to the Bureau of Labor Statistics. Black Unemployment remains at double-digit highs of 10.9% nearly double the national average now six years into Obama's failed presidency.
The Obama Administration has attempted to divert Americans attention away from their catastrophic economic policies by playing the race card, dividing Americans against themselves and never has this been more clear, since the post-Ferguson Grand Jury decision.