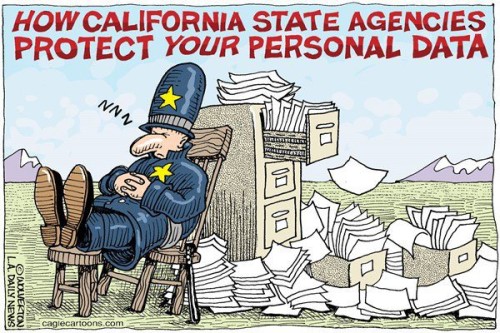 California Personal Data at Risk –Image: CalWatchdog
(AllGov) Although California is a prime-target for computer data breaches, only 4 out of 77 state entities responding to surveys from the California State Auditor, indicated that they were in full compliance with security standards.
They were crummy at "information and asset risk management, information security incident management and technology recovery." The audit warned that their vulnerabilities could prevent them from performing day-to-day operations which could jeopardize public health, wealth and safety.
The Auditor laid blame at the feet of the California Dept of Technology — Not only is the department not addressing these deficiencies, "until our audit, it was not aware that many reporting entities had not complied with its requirements."
Forty one of the entities surveyed by the Auditor had told the technology department they were 100% compliant with security standards. As it turns out only 4 were. — The Auditor's emphasizes that important private data could include medical, tax and other sensitive information, like Social Security numbers.
In June, the federal 'Office of Personal Management' announced a major hack that exposed personal information of about 20 million current and former federal employees and job applicants.
According to California Auditor Elaine  Howle, "Given the size of California's economy and the value of its information, if unauthorized parties were to gain access to this information, the costs both to the state and to the individuals involved could be enormous."
More here from News Factor Network