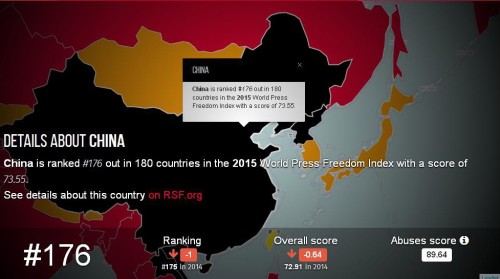 China Fell Again in 2015 Reporters Without Borders (RSF)
Global Press Freedom Index
(RFA) China regime held 23 Journalists and 84 Bloggers/Netizens behind bars in 2015 as the country fell yet another place in the Global Press Freedom Index — The majority of the online writers detained or imprisoned in 2015 were either Tibetan Bloggers or Reporters for the Sichuan province based rights group 'Tianwang' RSF said in its year end report.
On the 09 December, I wrote here that China is ranked last among countries included in the Freedom House 2015 Freedom on the Net report published in October. Globally the report warned Internet freedom has declined for the 5th year running.
Flashback: Remember in 2009 when then Secy of State Hillary Clinton said that money and climate change are more important than human rights in China.
More here on China Regime Censorship and Abuse of Reporters
Related: China Crackdown on Human Rights Lawyers Rises to 316