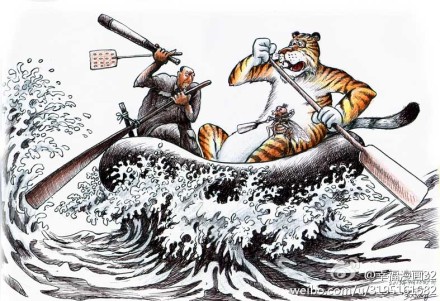 Tigers & Flies –Kuang Biao/China Media Project

(News China) Subsequent to China Regime new Dictator-in-Chief Xi Jinping's pledge in January to 'fight tigers and swat flies' meaning corrupt officials at all levels–a handful of high profile prosecutions have indeed given a modicum weight to his words however, political scientists have warned the sheer extent of the corruption in China continues to outpace all attempts at a crackdown.
Nowadays anti-corruption campaigners and investigators have revealed that few officials take cash for bribes, instead they want securities, discounted real estate holdings, free luxury cars, expensive 'gifts' for their families or vouchers redeemable at luxury stores. Few of these items leave a paper trail and even real estate holdings are rarely listed in the official's name.
The China Regime flawed system helps to make corruption self-sustaining. "A corrupt official tends to promote other corrupt official's on the understanding that everyone is corrupt, then everyone is safe," said Ren Jianming, a governance expert from Beijing University of Aeronautics & Astronautics.
Professor Ren warned that the 'trickle-down' effect of corruption means that this trend is very dangerous. Corruption at the highest levels can easily pollute an entire government department or ministry–Given that corruption is a fundamental part of the political culture in officialdom, no isolated institutional reform can endanger significant substantial changes.
Toxic Legacy–Graft Breeds Graft.
Full article here by Han Yong/News China Magazine