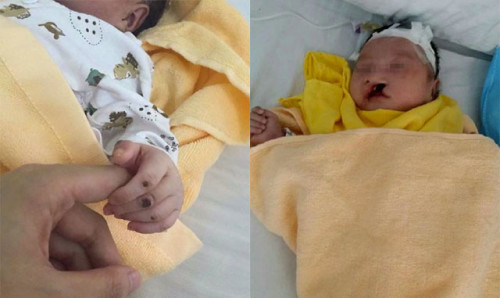 In May, Baby With Cleft Lip Was Abandoned, Burned and Buried Alive
8 Days in China Guangxi, Somehow Managed to Survive –Shanghaiist
(SCMP) Police in China Shanghai have arrested a man and a doctor on suspicion of murdering a newborn boy that had a cleft lip–the man who was the infants Grandfather and a physician have been accused of injecting the baby with a high dose of  'potassium chloride' on the 15 July killing him.
Ji Hui, a Deputy Chief at Chongming No. 2 Peoples Hospital was quoted by the 'Oriental Morning Post' as saying that family members had been told by doctors the cleft lip could have been fixed with proper treatment.
On the 07 June, 2013 I wrote here about and abandoned baby in China that was discovered with ants crawling all over her face in Zhengzhou, Henan Province — On the 12 December, 2011 I wrote here about Xiao Ling who had been abandoned and sent to an orphanage in Zhongshan, Guangdong Province by his parents when he was just 1.50 yrs old after they discovered he was a HIV carrier.
As I've written before and am reiterating — We'll always welcome
and have room for 

any

unwanted child from China into our home.