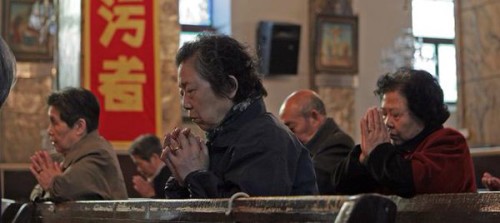 Fears of a Bid to 'Silence' Christians in China
After More Arrests –Premier
(China Change) Pastor Gu Yuese, leader minister of a Chinese govt approved sanctioned Church in Hangzhou, was arrested on the 27 January and placed in secret detention for opposing cross removal. Pastor Gu's wife Zhou Lianmei was arrested with him but is believed to have been subsequently released. Their home was ransacked by Chinese authorities, an indication that criminal charges will be brought against him.
Last July, the Zhejiang Christian Council headed by Pastor Gu, published a strongly worded open letter opposing the campaign in the Province to tear down Church Crosses — Pastor Gu's disappearance is believed to be in retaliation for his refusal to cooperate with the China regime.
In August, I posted a picture here of Chinese Christians Wenzhou, protesting the removal of Crosses and on the 30 December, 2014 I wrote here about other Crosses in Wenzhou, together with a Cross at a convalescent home in Hangzhou Zhejiang Province, ordered removed by China regime Marxist Thugs.
Where is the moral outrage by the Obama Administration, MSM and political candidates, of the ongoing Christian persecution in China?