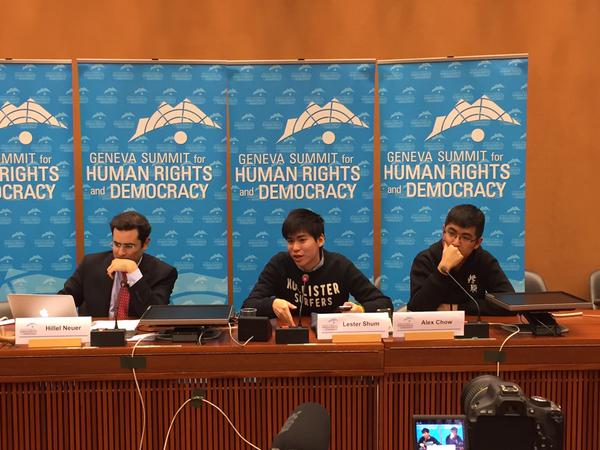 Hong Kong 'Freedom Revolution' Student Leaders Address
Geneva Summit for Human Rights –Image: Javier El-Hage@Twitter
(SCMP) Student leaders of Hong Kong's Umbrella (Freedom) Revolution, told a human right summit in Geneva on Tuesday that the world must stay focused on human rights situation in China and keep up pressure on Beijing to allow for more Democracy in Hong Kong.
Federation of Students Secy General Alex Chow and his Deputy Lester Shum, also said they will not retreat or lose hope in the fight for genuine universal suffrage in the 2017 chief executive election.
Earlier this month I wrote here about Hong Kong's 'Freedom Revolution' — On the 11 November, I wrote here that Obama assured China regime President Xi Jinping, that the White House had no involvement in promoting Freedom and Democracy in Hong Kong.
For 79 days last year, student led protests for Freedom & Democracy took over major streets in Hong Kong in the largest challenge to the China regime since the 1989 Tiananmen Square massacre.
"We have the right to have these things. We have the right to have Democracy –true Democracy and universal suffrage because this is a human right," said Activist Glacier Kwong.
"What we need is international public opinion to keep watch on China so that they leave Hong Kong alone," said Lee Cheuk-Yan, an activist arrested during Tiananmen Square protests adding, "We in Hong Kong we have nothing. We don't have arms, we don't have anything to protect ourselves. We have just the people."
More here 'Hong Kong Teen Activists Vow to Return to the Streets' –CNN