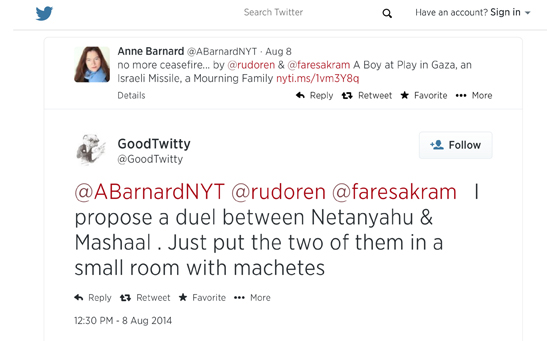 (CAMERA) Does NY Times reporter Anne Barnard, really believe that the conflict between Hamas & Israel is a personal problem with Bibi Netanyahu, the elected leader of a democratic country and Khalid Meshaal, the leader of a genocidal terrorist organization?
As a 72 hour ceasefire takes hold in Israel NY Times Gaza based reporters remain locked in a peculiar moral equivalency between Israel and the Islamic terrorist group Hamas bent on the destruction of Israel reports NewsBusters with 'journalists' taking pains on social media and television to stick up for Hamas, dismissing the idea of Hamas' harassment of journalists as "nonsense" and even criticizing Hillary Clinton for taking on the group.
NY Times reporter Anne Barnard appeared on Sunday's 'CNNs Reliable Sources' hosted by former NY Times colleague Brian Stelter and when asked about the "biggest misconceptions" in the coverage by naysayers "thousands of miles away" from Gaza, Barnard raised the subject of unfair allegations against Hamas.
"The most strange thing to me was the way the coverage was discussed. There seemed to be an impression that the people in Gaza were reporting civilian casualties because somehow, Hamas was making us do that or that's what Hamas wanted us to do. You know, covering civilian casualties  is at the core of what we do as journalists, particularly not just casualties but covering the impact of the war on ordinary people and that's part of our mission and we do that consistently on all sides in all conflicts that we cover around the world to the extent that that's physically possible."
Barnard has also has defended Hamas on her Facebook page…"What you see is largely what Hamas invites and permits Western journalists to report on from Gaza–What is happening is simply that neither Hamas or Israel is preventing journalists from entering Gaza and that's a good thing, may it last."
On Sunday I wrote here that the French newspaper Liberation published an article about French-Palestinian journalist Radjaa Abu Dagga who subsequently had a harrowing experience when he was summoned for interrogation by Hamas whose office was inside Shifa Hospital, Abu Dagaa said that the Islamic Terrorists were all well dressed "in civilian clothing with a gun under ones shirt and some had walkie-talkies."
Hamas accused Abu Dagga of working for the Palestinian Authority or Israel and then ordered him to leave Gaza immediately without his papers. Abu Dagga subsequently asked Liberation to remove the article for unknown reasons.
NY Times reporter Anne Barnard, may indeed find her stay in Gaza as inviting she accounts, just as long as she continues her propagandizing for Hamas in newspaper, social media and on cable news–the Islamic Jihadists couldn't buy better PR.