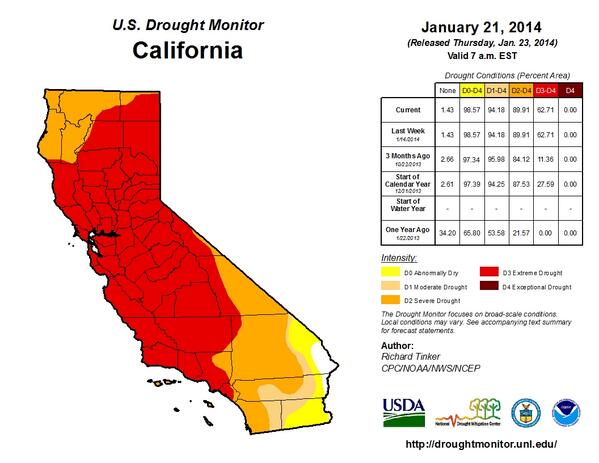 California's Man-Made Drought Moderate to Exceptional –NOAA@Twitter
(CBS San Francisco) As California Gov Jerry Brown's man-made drought continues, farmers in the San Joaquin Valley fear federal officials may seize water in the San Luis Reservoir intended for their crops.
In 2009 the Wall Street Journal reported thanks to EPA regulations designed to protect the likes of the 3″ long delta smelt, one of America's premier agricultural regions is suffering from a drought made worse by federal regulations.
California's persistent drought crisis while made worse in 2009 in large measure may be attributed to Atty General Jerry Brown disastrous environmental law suits to save the mountain yellow legged frog to increasing regulations and prohibitive costs on big construction projects that have over the years, created wealth, prosperity, and opportunities, making peoples lives better.
If not for California's wacky environmentalist policies and want for more regulations, the state may have instead invested for the future, constructing life-saving desalination plants such as Israel's Sorek Desalination Plant which provides 26,000 cubic meters or 7 million gallons of clean potable water every hour, to over 1.5 million people.
Similar desalination projects along the California coast line, would forever prevent future man-made water crisis's.