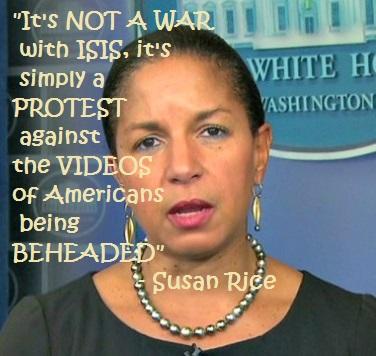 Obama's Natl Security Advisor Susan Rice Maintains $100,000′s  in Investments With Islamic Fascist Iran –Image: Expose Liberals
(FOX News) Following Secy of State John Kerry's startling revelations this week that the United States is not at war with ISIS Jihadist Thugs, that have videotaped butchering two American journalists and posted the videos on social media for the world too see and subsequent to Obama's declaration of war Wednesday evening against ISIS and request for $500 Million from the taxpayers to engage the enemy, National Security Advisor Susan Rice was asked by CNN's Wolf Blitzer to clarify whether or not the United States is at war with ISIS or not?
"Is the United States at war right now with ISIS," asked Blitzer during an interview with Rice adding that it "sounds like a war with me. Is it fair to call it a war?"
"Well Wolf, I don't know whether you want to call it a war or sustained counter-terrorism campaign," she said reminding him that Obama had vowed to put U.S. combat boot on the ground.
Rice explained that when Americans thought about war, it was clear that they would think about the wars in Iraq and Afghanistan.
"We'll not have American combat forces on the ground fighting as we did in Iraq and Afghanistan, which is what I think the American people think of when they think of war, so I think this is very different from that."
In other words, the Obama Administration has not clearly defined the mission in Iraq, how they intend to defeat or is it still "manage" ISIS, why some 1,600 American troops (military advisors) have been put into harms way in a war zone or what the strategy is for victory against radical Islamic Jihadists that have murdered Americans?
That makes me feel safer knowing that the Obama Administration is clueless how to prosecute a war and defeat the enemy before more Americans are killed.
Full Article here from Breitbart