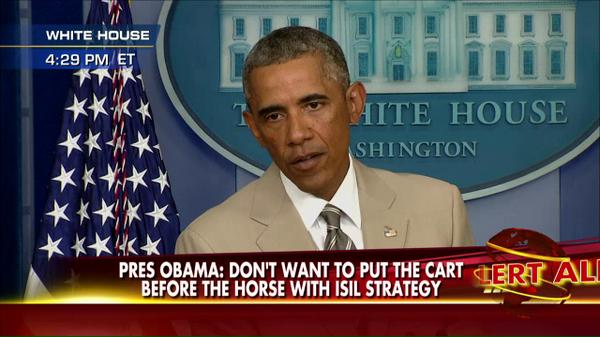 Obama Says He Doesn't Have a Strategy for Dealing With ISIS However There's Always Time to for More DNC Fundraisers –Image: FOX News
(Democrat & Chronicle) Fresh off from his vacation in Martha's Vinyard, Obama is scheduled to attend three Democratic fundraisers on Friday.
Investment Banker Robert Wolf of Purchase, one of Obama's biggest money backers on Wall Street is hosting one of two $32,400 per person Democratic Fundraisers in Westchester, NY for some 250 people–the second DNC fundraiser scheduled is to be a $32,400 per person round-table style event in New Rochelle, NY for some 25 people.
Obama is later scheduled to attend a third fundraiser in Rhode Island that will benefit the Democratic Congressional Campaign Committee.