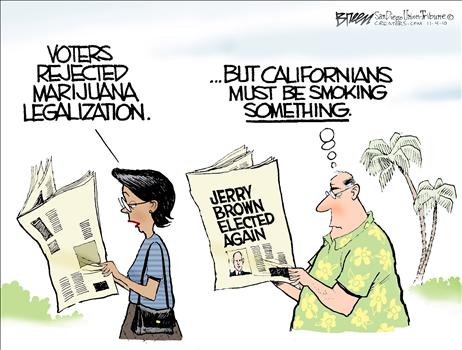 Unsure if its the salt in the air, the cloud cover, too much Pot or maybe not enough but California has once again distinguished itself as the lauging stock of the nation by electing Jerry Brown as Governor and returning Barbara Boxer to the Senate–two retreads that have lived off the government all of their lives, never holding a real job while becoming Millionaires in the process. Neither knows what a real job is, let alone how to create one.
Worse yet, they did it not by standing on their records but by character assassinations of their opponents. They continue to espouse the same policies of higher taxes, union rules and regulations, that drive jobs out of the state and the country, while criticizing their opponents for doing the same thing.
Former Chief Executive Officers Carly Fiorina of Hewlett-Packard and Meg Whitman of e-Bay, operated profitable companies that employed thousands of people, while California amassed $20 Billion Dollars in Debt and the Federal Government $13 Trillion Dollar Budget Deficit–up 30% in the last two years.
Rest here from Letters to the Editor, Orange County Register
Related: California Elects Jerry Brown Again, Oh My –Asian Conservatives