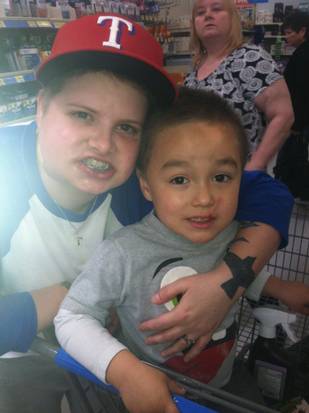 Sondra Scarber and her Son 4 Yr Old Jaxon
(Dallas Morning News) An assault on a Lesbian Mom defending her 4 year old son Jaxon at a Mesquite playground last month remains unresolved, Police have now designated it as a hate crime and the North Texas Crime Commission which operates Crime Stoppers is now offering a $5,000 Reward for tips leading to the arrest of the man who allegedly attacked Sondra Scarbar on the 17 February
Scarber was allegedly attacked on a playground by a male suspect according to Dallas Voice after she asked the male suspect's 10 year old son to stop bullying her 4 year old son–the suspect allegedly yelled anti-gay epithets as he reportedly threw Scarber to the ground before kicking her in the head and stomping on her face. Scarber suffered a dislocated jaw as a result of the attack and still drinks her meals through a straw, a month subsequent to the assault.
Mesquite police spokesman Lt Bil Hedgpeth said, "This is a man whose response was very disproportionate  to the situation–the fact that he would get so violent over something this minor, tells us that he's a very dangerous man and that we need to get him off the streets."

The suspect is described as a Black Male, 5 feet 7 inches tall, weighing 185 lbs, he was last seen wearing a royal blue T-shirt and blue jeans, subsequently drove off in a 2000s Silver Chevy Impala with paper temporary tags.
Anybody with information may call Crime Stoppers anonymously or the Mesquite Police Dept at (972) 216-6759
H/T: Constantine Soriao