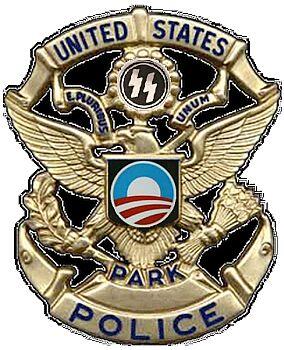 Obama's Gestapo Park Police –Image: Engineman55@Twitter
(Newburyport Daily News) Pat Vaillancourt went on a trip last week that was intended to showcase some of America's greatest treasures.
Instead the Salisbury resident said that she and others on her tour bus witnessed an ugly spectacle that made her embarrassed, angry and heartbroken for her country.
Vaillancourt was one of thousands of people who found themselves in a national park during the federal government slimdown that went into effect last week. For many hours her tour group that included Seniors from Australia, Japan, Canada and the United States, were locked in (detained/false imprisonment) in a Yellowstone Natl Park hotel under armed guard.
The tourists were treated harshly by armed park employees, Vaillancourt said, so much so that some of the foreign tourists with limited English skills thought they were under arrest.

When finally they were permitted to leave, the bus was not allowed to stop at all along a 2.5 hour trip out of the park not even to stop at private restrooms that were open along the route. "We've become a country of fear, guns and control," said Vaillancourt, "It was like they brought out the armed forces, nobody was saying we're sorry."

Vaillancourt was taking part in a 9 day tour of Western parks and sites together with about 4 dozen Seniors , one of the highlights of the trip was to be Yellowstone Natl Park.
Park Rangers systematically sent park visitors out of the park though some groups that had hotel reservations such as Vaillancourt's, were 'permitted' to stay for two days. Those two days started out on a sour note she said:

"The bus stopped along a road when a large herd of bison passed nearby and Seniors filed out to take photos. Almost immediately an armed Ranger came by and 'ordered' them to get back into the bus saying that they couldn't "recreate." The tour guide who had paid a $300 fee the day before to bring the group into the park argued that the Seniors 'were not recreating' just taking photos.

The Park Ranger responded: "Sir, you are recreating," and her tone became very aggressive , Vaillancourt said.
The Seniors quickly filed back on-board and the bus went to the 'Old Faithful Inn' the park's premiere lodge, located adjacent to the park's most famous site–that was as close as they could get to the famous site, barricades surrounded 'Old Faithful' and the Seniors were 'locked' inside the hotel, where armed Park Rangers stayed at the door.
"They looked like 'Hulk Hogan's' armed, they told us, "You can't go outside," some of the Asians who were on the tour said, "Oh my God, are we under arrest?" They felt like they were criminals." 
By the 03 October, the park which sees an average of 4,500 visitors a day was nearly empty. The remaining hotel guests were required to depart.
As the bus made its 2.5 hour journey out of Yellowstone Natl Park, the tour guide made arrangements to stop at a full-service restroom at a in-park Dude Ranch he had done business with before, though the bus had its own restroom, Vaillancourt said that Seniors were looking for more of a comfortable place to stop but no stop was made, Vaillancourt said the Dude Ranch 'had been warned that its license to operate would be revoked if it permitted the bus to stop' so the bus continued on to Livingston, Montana.
The bus trip made headlines in Livingston, where the local newspaper the 'Livingston Enterprise' interviewed the tour guide Gordon Hodgson who accused the park service of "Gestapo Tactics."
"The national parks belong to the people–this isn't right," Hodgson told the 'Enterprise.'
Calls to Yellowstone's communications were not returned. Many of the foreign visitors were shocked and dismayed what had happened and how they were treated, Vaillancourt said. A lot of people were foreign and said they wouldn't come back (to America) she said.
Rest here from the Newbury Port News
Related: Man Fined $100 for Running at Valley Forge -CBS News