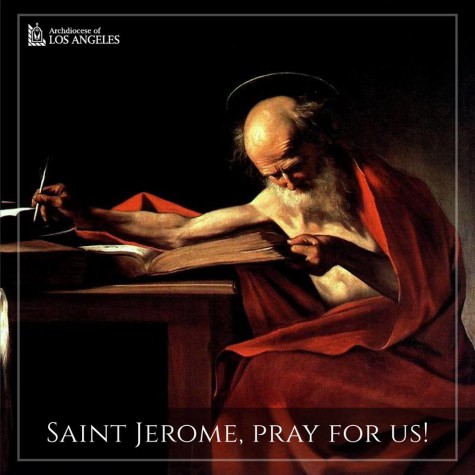 Saint Jerome (345-420) Image Courtesy: Archbishop Jose Gomez
Born into a wealthy family in Stridon, present day Croatia according to Catholic News Agency Jerome benefited with a Christian education courtesy of his father who sent him to Rome for instruction in philosophy and classical literature, he led a misspent youth according to SQPN dominated by a struggle between worldly pleasures which brought him many temptations.
Baptized in 360 by Pope Liberius, Jerome would travel widely among the monastic and intellectual centers of the new Christian empire. Upon returning to the community of his birth, Jerome would study Theology, mastering Latin, Greek, Hebrew and Chaldean, together with working closely with two future Saint's Chromatius of Aquileia and Heliodorus who were outstanding teachers of orthodox theology.
St. Jerome was above all a Scriptural Scholar, translating most of the Old Testament from the Hebrew between 390-405 according to Franciscan Media (between 390-394 according to EWTN St. Jerome translated the Books of Samuel, Kings, Job, Proverbs and Ecclesiastes) and also wrote commentaries, which are a great source of Scriptural inspiration to us today.
Summarizing his scholarly works St. Jerome once said: "I interpret as I should, following the command of Christ: 'Search the Scriptures,' and 'Seek and you shall find.' For if as Paul says, Christ is the power of God and the wisdom of God and if the man who does not know Scripture does not know the power and wisdom of God, then ignorance of Scriptures is ignorance of Christ."

On this date in 420 St. Jerome died in Bethlehem where he had established a Monastery.
More here from American Catholic and here by Fr. Jose de Siguenza