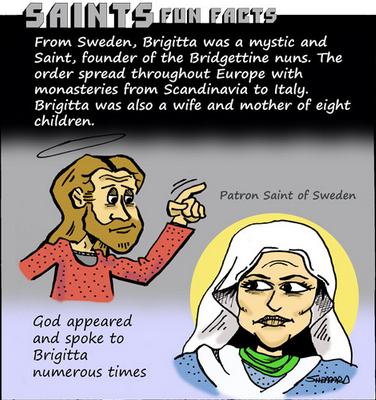 Saint Bridget of Sweden
Image: Catholic Online
(Franciscan Media) Born at Finsta Castle in Sweden Uppsala, Bridget was the daughter of Birger Persson, Governor and Provincial Judge of Uppsala according to SQPN and was one of the greatest landowners in the country. — Bridget's mother was known widely for her religious conviction and Christian devotion.
From the age of 7 on, Bridget began receiving visions of Jesus Christ's crucifixion which formed the basis for her youthful activities–always with the emphasis on charity rather than spiritual favors.
In 1315 Bridget's mother passed away, she was then raised and educated by her Aunt that held strong Christian convictions like her mother had. A year subsequently in 1316 Bridget married Prince Ulfo of Nercia (an arranged marriage) becoming the mother of eight children.

Bridget continually strove to exert good influence of Sweden's King Magnus II (1316-1374) who gave her land and buildings to found a Monastery for Women & Men. Following Prince Ulfo's death in 1344 Bridget pursued a religious life for which she was continually harassed by others in the Royal Court — Bridget would later renounce her title as Princess.
In 1346 Bridget founded the 'Order of the Most Holy Savior'  Bridgettiness of Vadstena which received confirmation Pope Urban V in 1370 and remains in existence to this day in Sweden.
Bridget died on this date in 1373 in Italy Rome and was Canonized in 1391 by Pope Boniface IX
More here from American Catholic