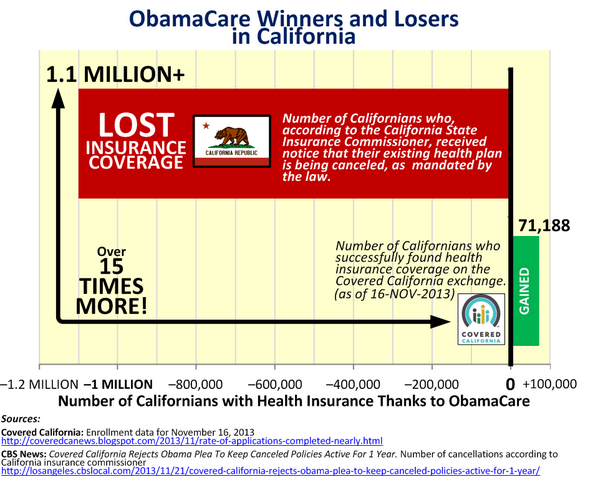 ObamaCare/Covered California: 1.1 Million Health Ins Policies Canceled Less Than 80,000 Have Signed Up for Govt Managed Health Insurance
Image: SoquelCreek@Twitter
New York Times columnist Paul Krugman writes that ObamaCare/Covered California is "looking pretty good" but that is, only if one dismisses reality.
Nearly two months have lapsed since the ObamaCare roll-out took place and the facts in California and the nation speak for themselves and no political hyperbole, Obama Administration talking points or their dinosaur media minions can spin the numbers to say they mean something different than what they are.
The Los Angeles Times reports that 'Covered California' health insurance exchange has posted 'solid enrollment' since the October 01–signing up nearly 80,000 people in ObamaCare approved health plans through the 19 November but fails to take into account for over 1 million cancellation notices that have been sent out to California residents that had and paid for their own health insurance before ObamaCare or the other mostly unreported consequences since the federal seizure of 20% of the nations economy.
Likewise, according to Watchdog.org a recent survey of California's top hospitals has revealed that most contract with only 1 or 2 insurance companies under ObamaCare even though 'Covered California' has 11 companies left to choose from following the departure of three major health insurance providers that have chose to opt out of one of the largest insurance markets in the nation. Loma Linda Univ Medical Center has refused to participate altogether and has no contracts with ObamaCare participating insurance companies, leaving people with fewer health care  and insurance options than before the federal mandated health insurance law went into effect.
Nationwide the news doesn't get any better, according to US News & World Report in late October, Americans who sign-up for ObamaCare will be getting a big surprise if they expect premium health care that may been previously covered under their personal policies. Most of the top hospitals will only accept insurance from just one or two companies under ObamaCare.
Yesterday, the Wall Street Journal in its assessment of Obama's signature legislative achievement reports that "ObamaCare's insurance costs more in return for worse coverage."
How sad–that this was the best Obama and a Democrat Majority Congress had to offer Americans, when they rammed through the 'Affordable Unaffordable Care Act' without a single Republican vote, which we all now know whats in the bill since they passed it.