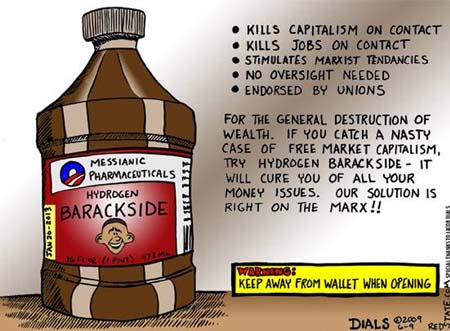 There has been no doubt what "Hoax & Chains" believed about Free Market Capitalism and Wealth Creation, remember while campaigning for President, Obama told Joe the Plumber that he believed in "spreading the wealth."
Frequently it never stops to amaze me when Loony Liberal Lefty Kool-Aid drinkers write to me, trying to convince me that Obama is center right.
Yet another example of how far from mainstream America Obama actually is:

During a speech in Quincy, Illinois Obama now begrudges success saying, "I do think at a certain point you've made enough money."
Who is in a position to decide what level of income is more than enough? Has Obama told his pal George Soros that government should confiscate most of his wealth so that everyone is working together for the good of the collective?
The Obama's made more than $5 Million Dollars last year, that amount most definitely is far above the national average. When will the Obama's set an example for the rest of us and write a check to the U.S. Treasury for the excess money he earned in 2009 above the average median house hold income in order to demonstrate fairness?
More here from The Washington Examiner